Peach Jolly Ranchers 160 pieces
Product Description
Peach Jolly Ranchers

Approximately 160 Peach Jolly Ranchers

Sorry, unfortunately the Peach Jolly Ranchers have been discontinued by the manufacturer and we are out of stock. :( Use the Contact Us form to let us know that you want to be on the waiting list, and if we find any then you will be the first to know before we release them to everyone else. Thanks again! CandyMafia
Get a total of approximately 160 Peach Jolly Ranchers and only the Peach ones. The peach Jolly Ranchers taste AMAZING! But they are extremely difficult to get in stock, and even harder to keep in stock. But you found them! And they are totally worth it.



Now you don't have to sort through all of the other flavors in order to get the ones that you want.
They are all individually sorted and so you only get the ones that you really want, the Peach Jolly Ranchers!
The reason that the Peach Jolly Ranchers are more expensive than the other flavors is that they are only released in limited quantities, and they are not sold in bulk like regular Jolly Ranchers. They also use the identical colored dye as the other flavors. It makes sorting them out extremely difficult. They are packaged with the Orange and they all look identical! But at least you don't have to buy an entire package and throw out the other flavors that you don't like. Thanks again for loving Peach Jolly Ranchers!
Here is a picture of the other flavors that come together: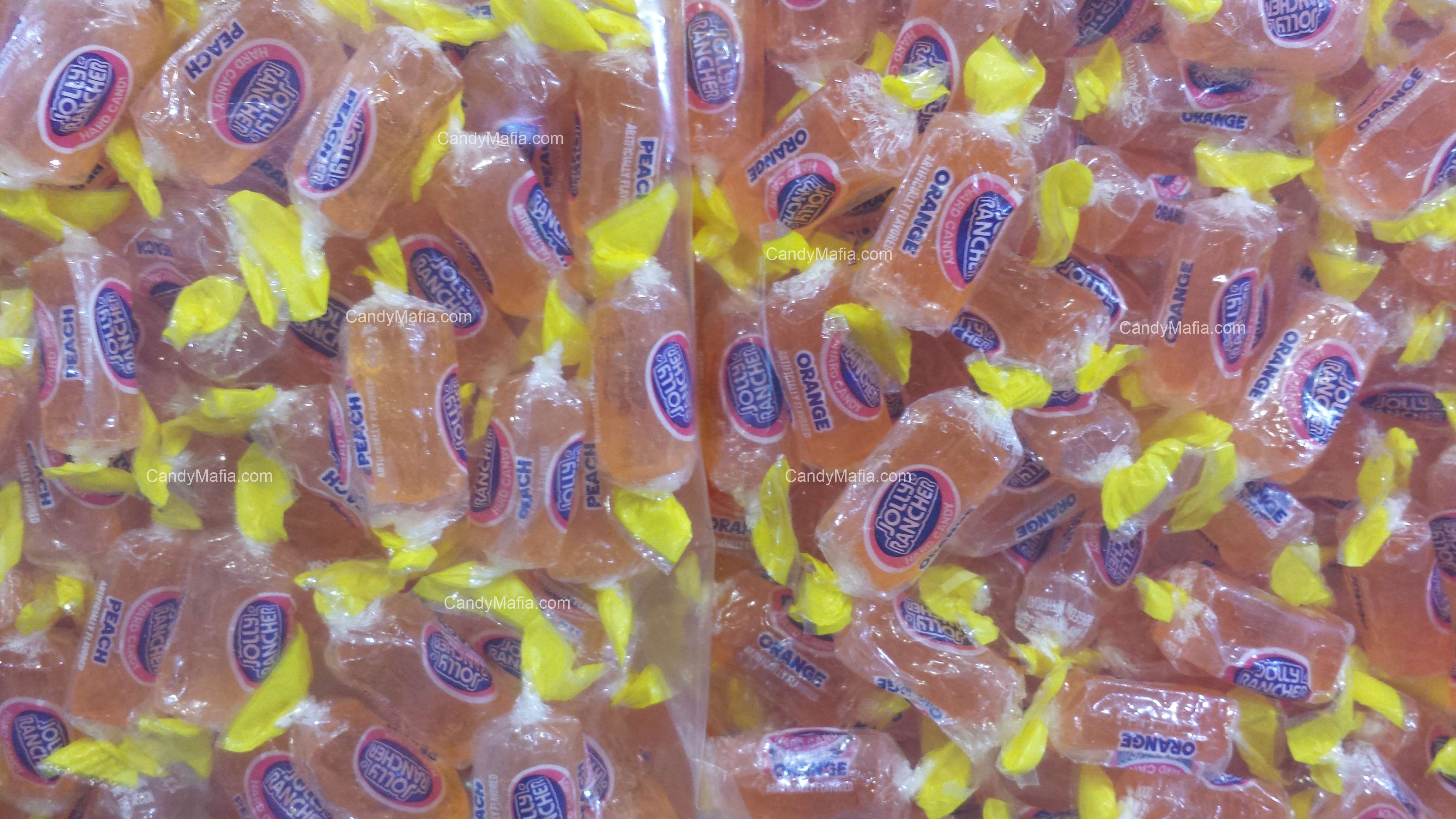 See why it's so difficult?

They are packed in a clear, heat sealed bag for freshness.

Product Reviews
Write Review
Finally found this hard to find flavor!

Posted by David Martinez on 7th May 2014

Been searching for Peach jolly ranchers for about a year, on and off. They're my girlfriend's favorite flavor so when the Google search engine popped up Candy Mafia and I saw that I could get them in bulk, I was freaking beyond excited. Candy was shipped extremely fast, neatly packaged and the candies were fresh and tasted delicious. Highly recommend this site! She's almost blown through the 160pc bag already, within a week so I'm wondering if they're laced with crack. Lmao. Jk. I will be ordering more very soon. Thanks for the service you provide. The look on her face when she opened the box made it all worth it.

Extremely impressed!!

Posted by Unknown on 9th Jan 2014

I have looked for peach jolly ranchers for years!! I was so happy to stumble upon Candy Mafia and can't believe how fast their turn around time is!! Highly recommend them!

Peach Jolly Ranchers

Posted by Nita Hixson on 4th Sep 2013

CandyMafia is the greatest because it is the only seller I have found that sells particular "flavors" of the many candies we buyers purchase in our every day lives!! The price is fair, shipping is fast and the packaging protects the candy being shipped. Thanks so much to CandyMafia's entire staff/workers for making this ole Grammy's day. :)

They are finally Here

Posted by Unknown on 19th Aug 2013

Hard to find jolly rancher old favorites(peach etc.)are available here and boy are they good. Just like I had when I was younger and before jolly rancher sold out to big candy corporation. They are a little expensive but this is to be expected as they must be sorted out from multi flavor bags. Still in my opinion it is worth it. Thanks Candy Mafia.
Thanks for working with us, and welcome to the "family" of CandyMafia!
Generally, all of our orders ship out within 2-3 business days. We use the USPS Priority Mail and have a Flat Rate of only $6 shipping for your entire order. The USPS has been great and manages to get orders to most of the country in 3 shipping days.
If you have a special deadline or special request, please email us and we can definitely expedite your order. We'll work with you to not only let you know how long it will take to pack up the order, but we'll work together to find the best shipping solution. We can always work with Fedex or UPS if those are better carriers for you. Just ask us!
...we're really nice. ;)
If you have any other questions, please contact us and we'll be glad to help. Thanks again for loving candy! -CandyMafia