Product Description
Bananarama Banana Shaped Candy
Bananarama Banana flavored candy lets you go Bananas! Bananarama Banana Candy is hard pressed candy that are similar to the Banana Runts! They taste like Bananas and are a ton of fun!



Get a total of 1 pound in a heat sealed packet for freshness!
Thanks again!
CandyMafia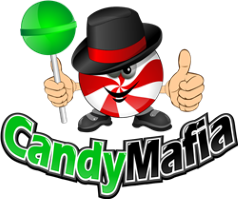 Thanks for working with us, and welcome to the "family" of CandyMafia!
Generally, all of our orders ship out within 2-3 business days. We use the USPS Priority Mail and have a Flat Rate of only $6 shipping for your entire order. The USPS has been great and manages to get orders to most of the country in 3 shipping days.
If you have a special deadline or special request, please email us and we can definitely expedite your order. We'll work with you to not only let you know how long it will take to pack up the order, but we'll work together to find the best shipping solution. We can always work with Fedex or UPS if those are better carriers for you. Just ask us!
...we're really nice. ;)
If you have any other questions, please contact us and we'll be glad to help. Thanks again for loving candy! -CandyMafia